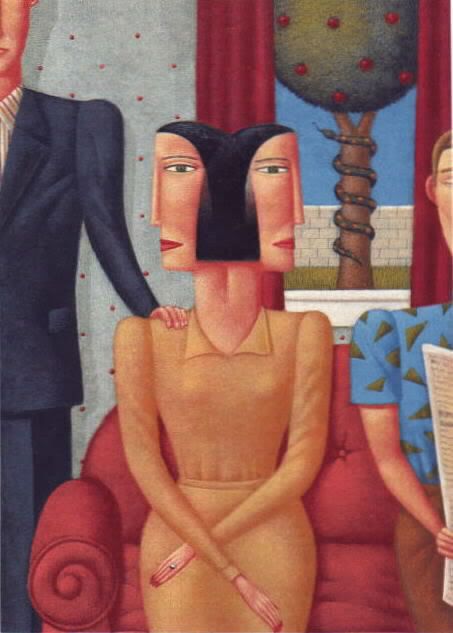 Molly Norris is the Seattle dog walker-cartoonist that came up with the concept of "Everybody Draw Mohammed Day" with a simple cartoon. Those who followed the events subsequent to her cartoon going viral know that only 2 days after an interview she had with Dave Ross of KIRO radio on Friday, April 23rd, 2010, she changed her mind and decided to back out, stating fear as the reason.
Taking a position and then changing one's mind is no "sin". In fact, lack of certainty is often a sign of an open mind, not cowardice. Fear is also an understandable reaction to the very real possibility that one may be killed for expressing one's ideas. I certainly do not condemn a young woman for being afraid.
However, I have some issues with Ms. Norris. Not because she backed down, but because she followed up with attempts to undermine others who chose to publicly express our opposition to religious censorship by grossly misrepresenting her initial position and misrepresenting her initial stated reason for backing out in the first place…fear. When one compares the statements she made in her radio interview with what she now states she said, it's difficult to come to any other conclusion than that there is an intentional effort to mislead.
Here's a portion of her April 23rd, 2010 radio interview with Dave Ross:
DR: "…. Really Molly? You sure you wanna do this?"

MN: "Yeah, I wanna water down the targets." (The intent and desire for mass participation is clearly stated –not just implied.)

DR: "Yeah, so how does 'Everybody Draw Mohammed Day' work?"

MN: "I haven't really, um, organized it yet, I…I…I posted it on Facebook and I have gotten a couple drawings of Mohammed, but I guess I oughtta follow through and really, um collect them and, ya know, put them on a deck of cards or something…" (A reasonable person hearing this would take this comment to mean that she intends to distribute these images commercially.)
Molly Norris lost her nerve and two days later, declared that she was distancing herself from the project and was not involved at any level. After reading so many negative posts and comments assailing her character. I gave my own take on the situation and made a statement I would later come to regret:
"She has since become frightened of the possible ramifications of her actions and is now distancing herself from the whole idea. It's unfortunate that she has decided to back down from the project, but seeing as she is not a celebrity with vast resources to hire security protection, it is understandable. She made her point and I respect her decision to bow out."
Of course, others took up the cause and Molly's star began to fade…and Molly wasn't going to have any of that.
Instead of moving on, she launched a campaign to force the spotlight back on herself.  With a new page on her site, she backpedaled from her original position and disowned her earlier comments. As stated before, she wasn't just content to misstate her original position, but also felt a need to draw attention away from the fact that she backed down because of fear of Muslims. Now she presents her change of heart as being due to concern over offending Muslims.
She writes:
"My cartoon was the beginning and end of expressing my personal views about Comedy Central's South Park censorship. If I had wanted my one-off cartoon to be the basis for a worldwide movement to draw Mohammed, then at this moment I should be thrilled," Norris tells Comic Riffs today. "But instead I am horrified! My one-off cartoon that was specifically about Comedy Central's behaviour vs. Revolution Muslim's threat leading to a slippery slope of censorship in America is not good for a long-term plan. The results have shown to be vitriolic and worse, offensive to Muslims who had nothing to do with the censorship issue I was inspired to draw about in the first place." Molly
She also writes,
"I regret going on the Dave Ross radio show on April 25th, before my cartoon went viral; my ego took me there."
Ms. Norris was perhaps correct about her ego (maybe it took her to later interviews as well), but this interview with Dave Ross happened on April 23rd, not the 25th. A simple 30 second check of the station's website and podcast schedule confirms that.
She obviously has a poor opinion of others' abilities to discern truth from bullshit. No matter, most folks would just shrug this off as someone trying to cover her tracks and save face. Good enough.
However, Ms. Norris couldn't resist taking this to the next level. She asked "that this 'day' be called off." Molly Norris was uncomfortable, so the rest of us better just STFU.
No such thing was going to happen, of course. The event was a done deal and had the support of some of the most influential theist and atheist voices on the web and in print. And happen it did.
I lauded the young woman initially for her bravery in coming out against Islamic bullying. I supported her publicly when she became frightened and backed out due to security concerns.
I now criticize Ms. Norris for not leaving well enough alone and for making a shameful and deceptive public display in which she impugned the integrity of thousands of free-thinkers who decided to stand up to Islamic threats against free speech and expression.
"Everybody Draw Mohammed Day" was one of those events that were inevitable. Eventually, at some point in time, it was going to happen with or without Molly Norris. Free thinkers just can't be kept down and they won't be silenced. Ms. Norris got frightened. I get that, but she shouldn't have asked the rest of us to share her reaction to fear and then condemn us publicly if we don't.